Social distancing and self-quarantine are strictly implemented to avoid the spread of infectious disease, especially to our loved ones and other people.
In order to assess whether these measures are effective in flattening the curve of COVID-19 cases, Google has launched the "COVID-19 Mobility Reports", which gathered data are from users who enabled their location setting.
The new tool provides more comprehensive data about social distancing from 131 countries and regions across the world. The generated report shows the historical data recorded from 48 to 72 hours, which is categorized into Retail and Recreation, Grocery and Pharmacy, Parks, Transit Station, Workplaces, and Residential areas.
What is the main purpose of the tracking tool?
According to the company's blog report, the information is useful to provide better solutions for " business hours, delivery services and frequency of public transportation." The collected data also show the needs of the communities, especially when it comes to public health protection.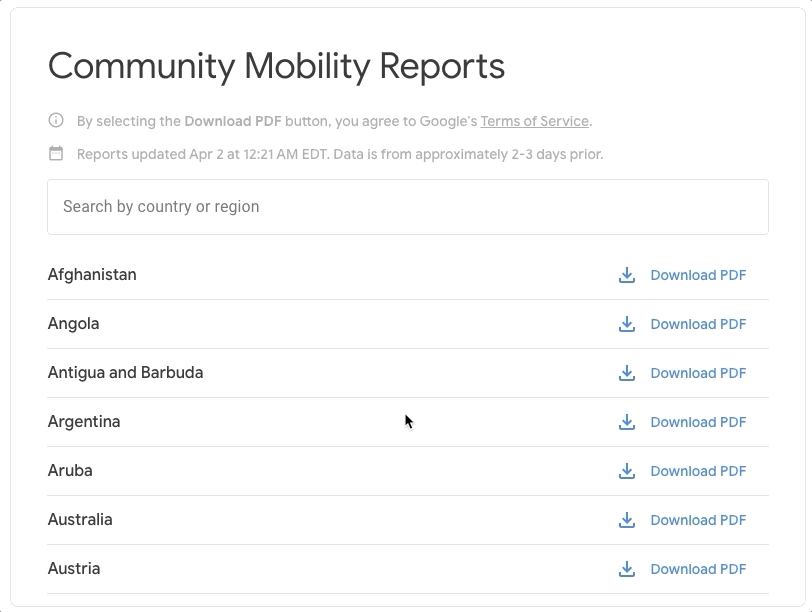 Even though the main purpose of the reports is to help public officials create COVID-related policies, the reports are also made accessible to the public to see how their respective communities respond to quarantine orders.
In the Philippines, the mobility trends show that there's a 26 percent increase in the number of people who stayed in residential places; while there's an 81 percent drop in visits to places like restaurants, cafes, shopping centers, theme parks, museums, libraries, and movie theaters.
In case you're worried about exposing any private information to hackers, rest assured that location and contact numbers are made nonpublic. For those who decided not to share their activity data, you can always turn it off on your Google Account and delete Location History data directly from their timeline.
For more information, click here.
______________
POP! Stories we think you might also like:
Google Doodle honors Ignaz Semmelweis, 'the father of handwashing' amid COVID-19 pandemic
Online calculator tells you how much toilet rolls you need amid COVID-19 pandemic
Man, who was once homeless, assembles hand washing stations for the unsheltered
Dating app advises to maintain 'social distance' amidst coronavirus scare