We hopped on a train full of emotions.
We definitely don't want a zombie apocalypse happening IRL.
Seriously. Who would want that?!
We're tired after screaming inside the cinema during the whole film.
AYAN NA!! BILIS!! TAKBOOOOO!!!
Basically all of us while watching Train to Busan: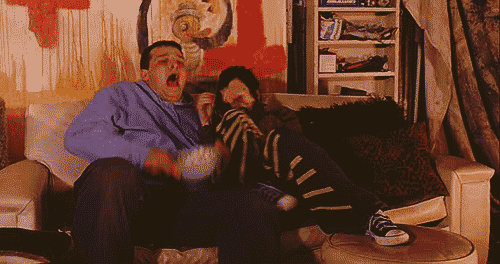 The thrill is REAL.
If we're one of the characters in the movie, we'd probably run faster than Usain Bolt.
*Me outrunning them zombies*
We never thought we could hate a movie character so much…
…but this guy proved us wrong.
We felt sad that everything happened on Su-an's (Kim Soo-an) birthday.
Poor kid just wanted to see her mom on her birthday.
Sang Hwa (Ma Dong-seok / Don Lee) is the hero of the story for us.
He was freaking badass and hilarious at the same time.
And his, wife who was one hell of a pregnant woman, instantly became our "Preggy Goals."
Imagine outrunning all those zombies with a baby in your belly. #StrongWomenRepresent
Train to Busan made us realize all our father's sacrifices for us.
Actors Gong Yoo and Kim Soo-an's father-daughter scenes definitely had us bawling inside the cinema.
We were singing "Aloha oe, aloha oe, until we meet again…" at the end of movie.
With all the internet spoilers about how much of a tear-jerker Train To Busan was, we promised ourselves we won't cry before watching the movie. The film proved to us that promises are made to broken anyways.
The actors in the movie rode a train full of zombies and we went aboard a wild train of emotions with Train to Busan.
You know you don't regret anything and you're definitely ready for more!
With the global success of Train to Busan, indiewire.com reports that the film "…has earned over $10 million in South Korea alone and is expected to cross the $100 million mark at the global box office this month." According to K-pop site Soompi, in a recent interview Gong Yoo talks about possible sequel for the film.
"I talked about this with director Yeon Sang-Ho," Gong said. "I said that I thought my character Seok-Woo might be living somewhere as a zombie, but director Yeon said that when Seok-Woo fell off the train, he broke his neck and died."
Gong Yoo also suggested that since Ma Dong Seok's character is still probably living as a zombie, they could do a sequel from his character's perspective.
A sequel? We are definitely on board that!
Subscribe to our daily newsletter
[forminator_form id="331316"]