Fifteen-year-old Austin Eggleston is a die-hard "Star Wars" fan. Last November, Eggleston, who was born with multiple congenital heart defects, was told by doctors that he needs a heart transplant in order to prevent his health from deteriorating.
He was transferred to the Lurie Children's Hospital in Chicago as he waited for a donor. While he was there, he developed a bond with one of the hospital's cardiologist, Dr. Phillip Thrush. And one of the interesting things they share is that they are both big fans of Star Wars — specifically of Chewbacca.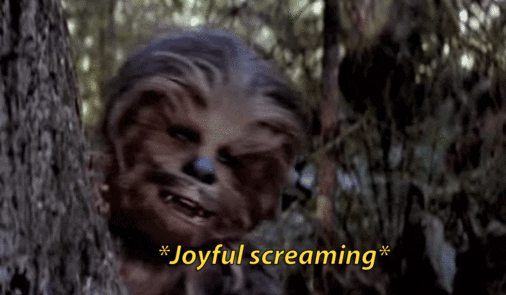 Chewbacca is a 200-year old Wookie who became Han Solo's loyal friend after Solo refused to kill him as ordered by an imperial officer. In return, Chewbacca protected Han Solo for the rest of his life and became his co-pilot on the Millenium Falcon.  He is 8 feet tall and covered with  long hair.
Eggleston and Dr. Thrush learned that they both liked Chewbacca after one of the doctors dressed up as him for one of his patients. So Eggleston requested Dr. Thrush to do the same for him, but only when there's a heart ready. He wanted to hear the news from his favorite Star Wars character.
And who would have thought that after four months of waiting, Eggleston got his request — he has a heart donor and Chewbacca (a.k.a. Dr. Thrush) came to tell him the news.
His mom recorded the whole scenario and the video was uploaded on the hospital's official Twitter account. Seeing Eggleston looking very ecstatic about the news will surely bring you tears.
When Chewbacca entered his room, Eggleston just kept saying, "wait, wait, wait…" Until he eventually asked: "We got a heart? Do we seriously have a heart? Holy balls!" And he just kept jumping up and down with joy.
You know that it can take years for someone to get a donor — especially for a heart transplant. So it was great news that he already got a donor in four months. As of this writing, Eggleston had a successful heart transplant and is now recovering
Nope, we're not crying. You are.
Other stories you might like:
The villain became a hero when a doctor dressed as The Joker delivered a baby on Halloween
'Star Wars'-themed bakery creates stunning gingerbread space ships
Moms of children with Down Syndrome create 'the most beautiful' Carpool Karaoke
Doctor shares heartwarming story of meeting a patient's father after eight years