The wickedly Oz-some show defied gravity and no one can bring it down!
Three years after the international broadway musical "Wicked" made its debut in the country, the heart-stopping theater production is back to deliver one wickedly awesome performance people shouldn't miss.
1. It's a wickedly awesome show and one of the best musicals of all time!
Musical lover or not, you'll definitely feel the "thrillifying" magic of Wicked as it blows you away with it's spectacular Oz-someness!
2. It shows a different side of the events that took place in "The Wizard of Oz".
Wicked tells the unlikely story of friendship between the two witches of Oz, Glinda and Elphaba, and how they turned out to be the "Good Witch" and the "Wicked Witch of the West".
3. Elphaba and Glinda are definitely friendship goals!
These two taught us that in the end, friendship matters more than jealousy, ambition, and the boy who almost tore them apart. #BFFGoals
4. They taught us one classy way to slam haters just by flipping your hair.

TOSS, TOSS!
5. It will make you realize that love chooses no color, and defies standards of beauty.
"Degreenified" or not, Elphaba taught us how to embrace our color and to have confidence in our beauty. Green is in!
6. It's one hilarious musical show with a bit of drama
Ready to roll on the floor while laughing very hard? This musical will definitely keep you entertained all throughout with Glinda's crazy antics and outrageously made up words. At the same time, illustrate some real life drama.
7. Its dazzling set design and costume will make your jaw-drop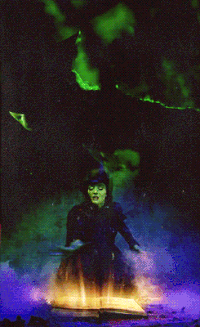 Everything that you will see on stage will bedazzle your eyes with awe and will make you want to join them in Emerald City to "festivate"!
8. The performances of the all new cast will give you goosebumps
As these guys burst into song and break into dance, one cannot help but feel mind-blown…
…and eventually, give them the applause they deserve.
9. It's a timeless classic that will forever have a greenified space in our hearts.
The wickedest of them all!
Prepare for something wicked coming your way when you catch "Wicked: The Untold Story of the Witches of Oz" until March 19 at The Theatre at Solaire!
Subscribe to our daily newsletter
[forminator_form id="331316"]